Hi! I'm Kara Cunningham, homeschooling mom to five living in north-central Colorado. Our family has been using Abeka homeschool for six years and have loved how simple their curriculum is to follow. My oldest, Emmaline, will be entering 5th grade in the fall followed by Charlotte (3rd) and Laurence (1st). I also have two toddlers, Oliver and Theodore, who I'm sure will be trying to join in the schooling fun as much as possible. 
I'm delighted to get to share with you today a look inside our homeschool life, what our daily schedule looks like, and what to purchase to have a successful parent-led homeschool. 
What You'll Need
Let's start with what you'll need. Abeka offers amazing kit options for each grade that will give you a solid foundation, especially for first-time homeschoolers. They have complete child-kits as well as individual kits for different subjects that provide you with everything you'll need to make the year a success. Kits allow you to feel certain that your child is getting all they need to complete each grade and be prepared for the year to come. 
The first four years of homeschool, we ordered the complete child kit for each year as well as parent kits. The parent kits include the answer keys for the year as well as other helpful resources like flashcards and learning games, which have been incredibly helpful to use throughout the years. 
Now that I have two children in older grades we have started learning together as a family for History and Science. We order the Child/Parent Kits in Arithmetic and Language and individual books for Spelling, Bible, and any electives we choose. Our favorite elective so far has been music theory.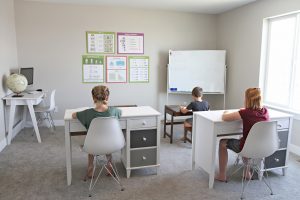 In addition to taking a parent-led approach, our family takes advantage of Abeka's homeschool video lessons on demand. Video lessons allow us to use the lesson library from Abeka Academy for those harder to teach subjects that I don't feel confident teaching or that I need a little help on. They offer several different ways to purchase video lessons. We currently purchase hours via lessons on demand and use them as needed throughout the year. And we can always purchase more hours throughout the year if necessary.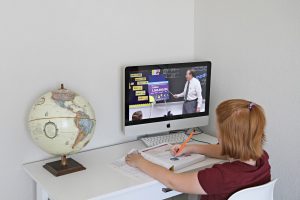 A Day in the Life
Before I go in for a closer look into our school days here in the Cunningham house, I want to start with a quick disclaimer. One of the biggest tips I give to new homeschool moms is to give yourself grace! No two homeschoolers' days will look the same and that's okay. As long as you're getting the work done and your kids are thriving, then do what works best for you.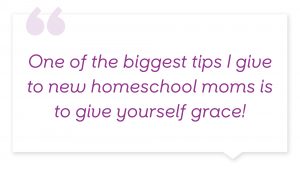 With that being said I'll show you a peek into our home and what we've found works for us to help our family have a successful homeschool year. Our school days usually last around four hours with more time as needed for additional studies and reading for the older kids. Here's a rough timeline that we try to follow each day. I'll go into a little more depth of what each subject looks like for us below.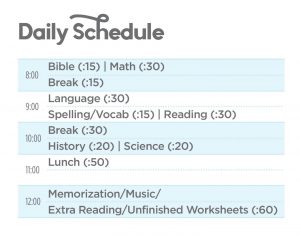 Download a daily schedule template here.
We begin each day with a short time of Bible, prayer, and memorization. It's a great way to start our day together and in the right mindset. During memorization time the older two will have longer passages while Laurence and Oliver work on shorter verses, but we stay in the same chapters so we can work through our Bible passages together.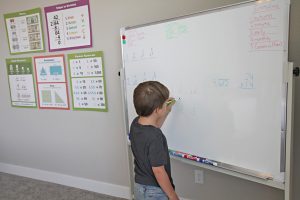 Next, we do either Arithmetic or Language–these two subjects are always near the start of our day since they take the longest for us and are core items. With Arithmetic and Language, Emmaline, who is entering 5th grade, often watches part of the lessons through video lessons on demand on abeka.com. This allows me the opportunity to work with the younger two doing flashcards, going over their lesson, and explaining their worksheets for the day. Then they will work independently to complete their worksheets. Once each child completes their worksheets, they are free to take a break. 
After Arithmetic and Language, Emmaline (5th) will work independently until we do History and Science together. With Charlotte (3rd) and Laurence (1st) I go over their spelling and vocabulary for the week, and we play spelling games together. Then we split off and they take turns reading to me while the other does their workbook for the day. 
For History and Science we try to find ways to learn together as a family. This allows us to do projects and science experiments together. For this I choose what things we'll be studying at the beginning of each quarter and make sure I have the needed books and items for any experiments or projects. 
At this point in the day, if they have completed all their worksheets and reading in the allotted time, then they are finished for the day. We choose books off of our yearly reading lists, which I make at the beginning of each school year, that are to be done outside of regular school time. They take time for their independent reading for around 20-30 minutes in the afternoon or evening.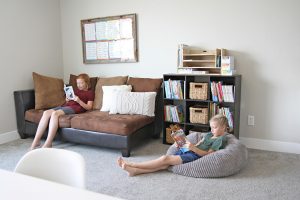 Homeschool has been such an incredible blessing for our family. It's allowed us to spend quality time together and given us the flexibility to do things like travel during the off-season, visit family, and change things up when we need to. We are so thankful for the wonderful resources provided by Abeka homeschool that have allowed us to complete each year with the surety that our children are receiving a well-rounded education with Christian beliefs at the core.