Running a successful Christian school is no simple feat. And there's no playbook. Most administrations have to rely on their own experience and learning from the experiences of others to manage the challenges that arise. And truthfully, those are the best places to get your information – straight from people who have been in your shoes. That's what inspired our team here at Abeka to create the Front Office. 
Our team of Christian educators has a wealth of knowledge to share, but until now, nowhere to really share it. We wanted to create a place where you and your administrative team can go to ask questions, gain inspiration, and learn how to market and run your school in the most successful way possible. One of the most recent webinars we shared addresses how to manage your school's social media during the COVID-19 pandemic. Here's a rundown of what Justin Paine, Abeka's Marketing Manager, and Charlene Milner, a member of Pensacola Christian Academy's Marketing team, had to say.
Managing Social Media Through COVID-19
Uncertainty. That's what administrators and parents alike are facing right now. The paradigm of education has changed, and your customers' expectations and needs are changing too. Your school needs to be in constant communication with your staff, parents, and students to create a sense of trust and community. A great way to do that is through social media. 
Organic social media offers your school free channels to directly reach your audience and show publicly how much you care about your students, your parents, and your staff. 
There are two main types of social media content to consider.
1. Necessary information: Crisis communication falls into this category, and it always needs to be clean, clear, and regularly posted.
2. Engaging Content: Fun, unifying, shareable content that shows the heartbeat of your school. 
You can also study and utilize social media to inform decision making. As parents and students engage with your social media channels, you'll be able to pick up insights that will help your administration communicate better with your families and make decisions that will allow them to feel heard. 
Avoid Miscommunication By Over Communicating in an Omnichannel Approach
When we say your school should be using an "omnichannel approach" we mean using every channel you have at your disposal to communicate with your audience. Whether that's Instagram, Facebook, Email, or even Twitter, it's critical that you get ahead of questions and concerns before parents begin to speculate or make assumptions. 
Going into summer, have a plan for posting content on each channel that you know your parents, teachers, and students would want to share. Use a unique hashtag to connect and unite an idea. Plan a month in advance, and incorporate a mix of necessary and engaging content. For example, post a verse one day and an update on what's happening with the school the next. 
Once you've built goodwill and relationships with parents and students on your channels, they will know to look there for updates.This is why posting consistently is so important. Whatever you're posting, it should reflect your brand and your school's story.
How to Attract New Students in the Fall Through Social Media
In order to avoid seeming insensitive, many schools hit pause on advertising during COVID-19. But as you move towards fall enrollment, you should start to rethink your marketing strategy and adjust your messaging accordingly. Here are six important points to consider while you're planning.
1. Communicate publicly about how you're proactively reacting to the COVID-19 situation on social media. It's great to communicate in private channels, but just as important to put your message out there for anyone to see. You'll be building trust and engaging potential customers along with your current families. 
2. Focus on your school's differential advantages. What makes your school different and what value does it offer? A public mission and value statement is key to the success of your school. Share that on your social platforms. Give people a bite-sized statement about what your goal is as a school and how your academic point of view will benefit their family. 
3. Identify your target audience and which platforms they use. Most Christian school audiences will have a similar demographic made up primarily of women ranging in age from 25 to 45. You'll want to research that audience in your community to learn more about which channels they frequent. As a general rule, women in this category are on Instagram and Facebook, so that's a good place to start. 
4. Capture new leads on your website. Find new ways to entice online searchers into your website by offering a resource they must first provide their email address to receive. Examples might be entering their email to download an informative PDF or brochure, filling out a contact form, or signing up for a newsletter. Once you have their information you can guide them through their journey in learning about your school. Gather as much information about your customers so you can customize their experience across marketing touchpoints. 
5. Running ads during COVID-19 is cheaper! Because many brands have cut back on advertising, the price to advertise now on Facebook or Instagram is around 25 percent less than prior to the pandemic. Plus, advertising through these channels will afford you simple retargeting. For instance, when a visitor leaves your site, they will start to see ads on Facebook or Instagram for your school. Search engine marketing is also a great way to serve parents searching for a Christian school in your area with information about your school that may not show up organically, without the backing of a paid ad.
6. Online Videos and virtual tours on your website. Offering video tours and online videos that provide a glimpse into the experience your school offers on your website will set you apart during a time when most families would rather be touring schools in person. You can even gate that content behind a request for an email to create another touchpoint of communication in the future. Feature images of the classrooms, students, teachers, and the campus across your site in order to give researchers as much of the real-life experience as possible.
The channels your school owns will operate as a marketing funnel. At the top of the funnel are people who are just beginning to look at your school. They likely found your school by searching online. The next phase in the funnel are people who are ready to request information from you in some form. Further down the funnel are interested applicants, and the bottom of the funnel– where conversion occurs– is where a family actually enrolls their student.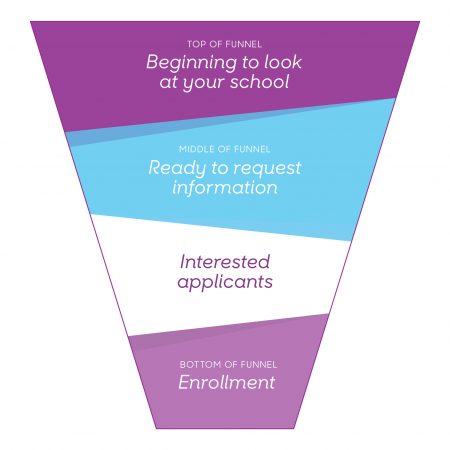 The most critical piece to making this funnel effective is follow up. There must be someone on your internal team dedicated to following up on each of these segments of the funnel. If a brochure request comes through, response time matters! Remember that you are competing to win their business and their confidence, and responsiveness is a key part of building that confidence and trust in your school.
Check out the free marketing materials available to you through Front Office. You can also watch the full webinar here.