Cindy Quinlan, an educational consultant who works for us at Abeka, recently hosted a free webinar featuring two of our Abeka team members, Micah Conlon and Justin Paine. Micah Conlon is a former teacher and administrator, and current curriculum writer for Abeka. Justin Paine is Abeka's marketing supervisor. He previously worked for Pensacola Christian College as the social media and marketing coordinator. Micah and Justin shared their expertise and experience on the topic of enrollment and re-enrollment campaigns for Christian schools and how you can develop a strategy that fits your school. They say it all starts with leadership.
Demonstrate Dedicated Leadership
In the enrollment process, people are looking for a strong leader. It's the job of administrators to be that leader and pave the way for the re-enrollment process. When a leader pairs their passion for getting new families into their ministry with a vision for a new direction for their school, potential families will sense that.
Administrators must work to communicate their vision clearly to potential new families. It's important to embody compassion, stability, hope, and trustworthiness in conjunction with your school's vision in order to gain their respect. 
Because of COVID-19, re-enrollment for Christian schools didn't happen as early as usual, but it's not too late to start demonstrating these characteristics.
Take Action
With all the uncertainty circling the new school year, now is a good time to publicize what your plan is for both current and prospective parents. Finalize your one- to two-year plan and put it up on your website and/or distribute it via email so your parents and students feel safe and comfortable with the future state of your school. 
And remember to stay impassioned. Of course, even Christians are allowed to feel worn down – it is easy to focus on the negative. But you can relight that fire. Take a step back and look at the big picture. Ask the Lord to rejuvenate that passion required to be an effective leader for your school and to encourage re-enrollment. 
Know Your Brand
Your school has its own unique identity – that's your "brand." It's important to know what your school stands for and what makes it different. People should know your values and what your brand is about. From there, the most important task is to communicate your school's brand to the community in a consistent way. 
If you are having a hard time nailing down exactly what your school's perception is in the eyes of the families who attend, a great way to do that is by surveying your students and parents. What are some of the important qualities of the school? A midyear, and then a subsequent end-of-year survey, is a simple way to get answers.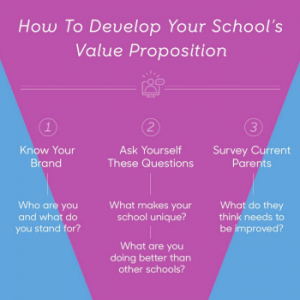 Sometimes you will find that there is a disconnect between what administrators and families believe about the school, which is often the result of a communication breakdown. Focusing on the issues that arise out of those surveys will help you communicate your mission better in the future. And once the survey has been completed, it's important to communicate the results to parents. 
Set Enrollment Goals and Track Them
Set a date where you routinely count the retained students at your school, but then also segment that out by grade to see where enrollment is dropping off. You may discover a drop-off in enrollment between 6th and 7th grade, and that will allow you to dive deeper to discover why. 
Keep a log of the process you use to track your goals. Use Excel or Google Sheets in order to collaborate and share information across the administration. 
Devote Time and Staff to Enrollment Efforts
Start by developing an admissions team. A small school's staff may comprise of only a few people, whereas larger schools may have an admissions counselor. Each school handles this differently, but you must have a plan. Consider soliciting parents of former students who had a good experience with your school and who may be interested in being a part of that team. Automatic re-enrollment is also a common practice now. 
If you're asking teachers to get involved and dedicate their time to enrollment, if you can, offer them a financial incentive and a free period to accomplish some of the responsibilities needed. If they can recruit five students, any financial investment will be well worth it. 
Have a Word-of-Mouth Strategy
Word of mouth is THE best way to promote your school. The most effective way to get the word out about your school is through parents who believe in you. Social media can be a great conduit for parents to share their experiences. We call this "user-generated content," and it can include videos, text posts, or even a simple brag about a teacher.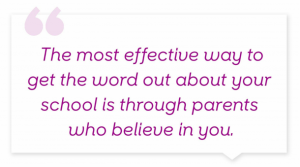 Encourage parents to tag your school on social platforms when they are talking about how great your school is. Anything that feels authentic and real will help make the case for prospective families. You can even create a school ambassador program by connecting with local churches who may be connected to your school. Build relationships with members of the Christian community who are willing to share information about your school by word of mouth.
Always Follow Up on Inquiries
The biggest mistake you could make is to NOT follow up on inquiries from new families. First things first, make sure you have a call-to-action on your website where people who want to learn more about the school can enter their contact information. Each inquiry should have an automatic response set up, even if it's simple. Then, be sure someone within your admissions team contacts them within one or two days with follow-up information to keep your school fresh on their minds. Contact the parent within one week of that follow-up, and then follow up again a week after that. 
A welcome or thank-you email is also a nice personal touch, and including their name will add another small touchpoint that can make a difference. 
Re-recruit Your Current Families
Each year, parents are faced with the decision about whether or not their child is getting the best education possible. These parents are the most important part of your population. Your administration and admissions team should be in communication in advance of the typical enrollment period to have time to prepare. Automatic re-enrollment puts less of a burden on admissions teams to reach out, but they should still be communicating well before the automated process happens to be sure no one is caught off guard. 
If you don't have automated re-enrollment, emails or personal calls will be important to stay in close contact and top-of-mind. Part of the communication should be a clear plan or letter about the coming school year during the continued challenges of COVID-19. 
Feature Resources on Your Website
Don't forget to include the most important information for parents on your website so it's easy to access. That includes your plans for the coming school year in relation to COVID-19, your tuition rates, and a FAQ page. As we mentioned earlier, be sure to have a clear call-to-action for parents to request more information. 
And lastly, your website should be responsive. "Responsive" means that it adapts on different devices and loads quickly. Google will be less likely to rank you highly in search if your site is not responsive. Your website will likely be someone's first interaction with your brand. So, it's important to invest in making sure you're putting your best foot forward. 
Your site should have a clear purpose and message, and that decision should fall with the administrator. 
Generate Leads Through Online Marketing Strategies
In our previous webinar, we focused heavily on marketing your school. You will need a targeted marketing strategy, and we recommend an omnichannel approach in order to communicate your brand's message to as many people in as many places as possible. Utilizing social media, digital storytelling through videos or images, and SEM and SEO will all, together, benefit your marketing efforts at different levels of the marketing funnel. 
Register for one of our live webinars at abeka.com/frontoffice.