Right now, many teachers are looking for ways to continue to educate their students remotely for the remainder of the 2020 school year. Fortunately, this pandemic is hitting the world in a time when that's possible. Lessons can be pre-recorded and live-streamed, teachers can share their screen with students, and the lines of digital communication to share lessons and assignments are endless.
If you use Abeka, ProTeach is a great way to keep your students on track. During COVID-19, we've decided to offer any school using Abeka free access to ProTeach streaming online video lessons.
We can all be thankful for the options technology affords us right now. But with many options comes much to sort through. We've compiled a few tips and resources that our community has shared with us over the past few weeks, and we hope it will help make your remote teaching routine easier.
Tips and Tricks
Set Boundaries 
Designate specific hours for questions and help, and be sure to clearly document your "off" or "quiet" hours, so students and parents have expectations for when they can get in touch. Make sure parents have the appropriate contact information to reach out and the timeframes you are available. You'll be able to avoid any tension or panicked requests after hours by setting clear expectations upfront.
Predict and Answer Questions Within Lectures
By thinking through what questions might arise once your students have watched the pre-recorded lessons you create (or even if you are live-streaming), you can lessen the time spent answering questions and clarifying details. It may take a little extra time to build out your lesson each day, but you will save time on the back end.
Streamline Your Tools
There's no getting around the fact that right now, you need tools you may not have utilized in the past—tools like we are about to discuss below. But sending links from different places and using a variety of forms of communication could confuse both parents and students. After you've checked with your administration on which tools they recommend, try your best to select the tools that suit your classroom needs best and stick to them. Choose one tool for communication, one for video, one for demonstration, and one for submitting assignments. Creating expectations during this time of uncertainty will work wonders for your students.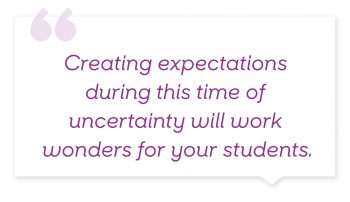 Remote Teaching Tools to Consider
ProTeach
While the COVID-19 pandemic continues to keep teachers educating their students remotely, we are offering any school that already uses Abeka free access to our ProTeach streaming online video lessons at no additional cost.
ProTeach video lessons are available for every grade and subject Abeka offers. Each video lesson follows the curriculum lesson plans exactly as they were designed to be taught. One of our Pensacola Christian Academy teachers is recorded in the classroom with their real students walking them through each step, just as you would. Check out a sample video for yourself.
Digital Teaching Aids
If you use the Abeka curriculum and need help bringing your video lessons to life, digital teaching aids are a great place to start. You can create a digital chalkboard, utilize presentation software, create visuals to share with students, and more. You'll save yourself time and provide a more engaging remote learning experience for your students.
Ways to Record or Stream Lessons or Lectures
Webex For Streaming Lessons
With Webex, you set up a live stream class, then send out the link. It's really that simple. You can upload reading materials to your "space" prior to the lesson and ask discussion questions to get the conversation started in your students' heads. You can also set up a "reminder bot" that sends out reminders to students when class is coming up. Plus, you can record each lesson, in case someone misses or you need to reference something later.
Loom to Pre-Record Video Lessons
The creators of Loom are allowing teachers and students to use this streaming and recording tool for free due to COVID-19. With the free version, teachers can pre-record videos of their lessons, share videos, and use key features like the drawing tool, flipping your camera, recording presentations, screencasting, and more.
Utilize a Digital Whiteboard
"Project" a customizable screen for your students, live. When you use Classroom Screen, you can write out assignment instructions for students to follow, set a timer, draw on the screen, set a looping stopwatch, and more. It's perfect for activities, quizzing, prep for tests, or simple class assignments.
Use Zoom (Cautiously) for Recorded Video Lessons
We know many teachers are already using Zoom and are looking for tips, but we want to start by reminding educators that Zoom has had some privacy issues. It's a helpful tool, but there are a few things you can do to make sure your privacy is not being compromised.
Rather than downloading and installing the Zoom app, you can increase your security by using the web interface to access your meeting.
If you don't have to have an account, don't make one. Participants don't need to create a Zoom account, so avoid doing so and encourage your students to do the same.
Hosts should take advantage of the Waiting Rooms feature, as well as using strong passwords and avoiding sharing meeting links. This blog has more details.
Now, on to the good stuff about Zoom. You can pre-record lessons, download them, and send students the link to the video through an email. You can also have video or conference calls with students or parents, and record those as well. Here is a website where you can get most of your Zoom-related questions answered and watch a few tutorials. Until the COVID-19 outbreak, free videos were only allowed up to 40 minutes in length, but Zoom has updated that for schools and teachers.
Once you've gotten into your new virtual teaching rhythm using the right tools and resources, you'll start to feel comfortable in your new "normal." In the process, you may even pick up some ideas for how to create a more digital, interactive classroom once you're back in your real classroom. And don't forget, summer is just a couple of months away. Your long-awaited break will be here before you know it.