When the COVID-19 pandemic started shutting schools down, teachers all over the world were thrown for a major loop. There is a huge difference in the dynamics of physically teaching students in a classroom and teaching them in alternative, digital methods. The list of changes these men and women have been required to adjust to is unending, but teachers have done what they do best – they adapt and learn. 
We wanted to hear from them and see what lessons these challenges have taught them in the process. 
When we spoke to teachers who had been working their way through and around the hurdles of educating their students from home, they were the most passionate about the challenge of motivating students. And they went to great lengths to do so.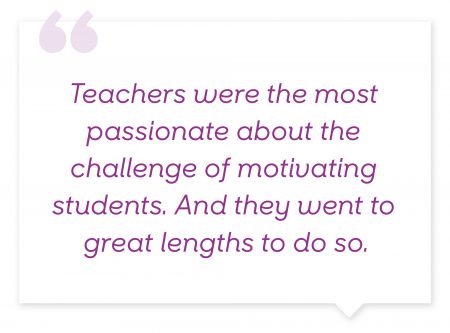 Some of these teachers called each and every student at least once every week. Others set up video calls to give the class a chance to interact with each other with learning games, concept review, and even lunch with the teacher. 
These teachers did their best to make a fun learning experience for their students. They scheduled special days for students to participate in. Students could share a picture to participate in "bring your pet to school day" or "silly sock day." One teacher even initiated a week of learning while camping. She delivered glow sticks to each of her students and items needed to make s' mores culminating with having "school-inside-a-fort Friday." 
The teachers we spoke to overwhelmingly talked about daily the communication that was critical for keeping lines open for students and parents. They would send lesson guides so the students and parents knew exactly what was on the school agenda for the day. And when email wasn't working fast enough, communication through text messaging was a great solution. Weekly communication through phone calls or video calls had also been critical in order to solidify student comprehension.
Here are a few direct messages we received from some of these incredibly dedicated educators:
"Value every moment with your students. Don't take a day for granted. We were just starting the Easter story in Bible when we shut down. I only wish I could have finished telling them about what Jesus did for them. I have been able to share with many over video calls, and students have been watching Abeka videos so I know they are getting the truth, but it's not the same as seeing their faces when hearing it." – Sonya F.
"There is no substitute for face-to-face interaction in education.." – Angie C.
"I've learned that I won't do all the things I thought I would do when I retire one day – cooking healthy meals, exercising, keeping my house clean. I won't do any of that when I have the time." – Sandy B.
"I realized it was easier to not grade each test the moment I received it. I would spend so long getting each of the test keys out, recording it, etc. I found it much more time-efficient to wait until I received the majority of the tests before I sat down to focus on grading." – DeAnna W.
"Many of our students have challenging home lives. Seeing and experiencing that first hand has made me more aware and gracious towards those situations." – Sam H.
"In-person is far more effective and much easier." – Kid Corps Academy
"I miss my kiddos!!! Even those little 'irritations' that can pop up are missed." – Aimee R.
"Internet is a necessity not a luxury." – Kelly K. 
"Students will do what you inspect, not necessarily what you expect." – David H.
"It's hard to motivate kids through video. Especially when they won't turn on their cameras…" – Annie B.
"Someone once told me, 'YOU may be the only good part of that child's day.' Being stuck at home or at grandma's house, or with anyone available to watch them, the students need teachers to listen to them, to be interested, to care. Any way you can show them…that is the best form of communication." – Barbie T.
From everyone here at Abeka, we want to say "thank you" to all the teachers. You've stepped up in the face of immense challenges, and we are so proud to work alongside each of you. The lengths you've gone to ensure that your students stay on track is so important, and we're certain your students will remember it for years to come.