In all the hustle and bustle of the holiday season, it's easy to forget—or run out of time—to find Christmas gifts for your students. But the little "somethings" that come from you are the things that mean the most to your students. Take a look through these 12 simple ideas for Christmas gifts your students will love that won't break the bank. 

1. Personalized Ornaments
Use glitter glue, paint, or colorful permanent marker to write each student's name or first initial. For a little extra creative sparkle, add polka dots, stripes, or stars and ribbon. Then laminate, use a hole-puncher, and string with yarn for hanging on the tree.
2. Name of Christ Ornaments
Start with ornaments, and add the year on the back. Instead of making these just for fun, decorate each one with a different name of Christ. If you can, use a name used for Christ in the Bible that starts with the first letter of the student's name (e.g., give a student named Cameron an ornament with the name Counselor).
3. Crayon Ornaments
Not only will you create these adorable ornaments, but you'll also be repurposing old, worn crayons that would have been neglected this Christmas. Melt the crayons down, place them into molds, allow them to cool, and voila. Add a piece of red yarn, and your students will always treasure the ornament you made for them out of crayons. You can find the molds on Amazon and from other retailers.
4. Custom Bookmarks
Whether you can design them on the computer or by hand, put together personalized bookmarks, tailored to the interest, name, or personality of each of your students. Cut each one out, and then laminate them, and gift each student with a special, custom bookmark this year.
5. Hot Chocolate Reindeer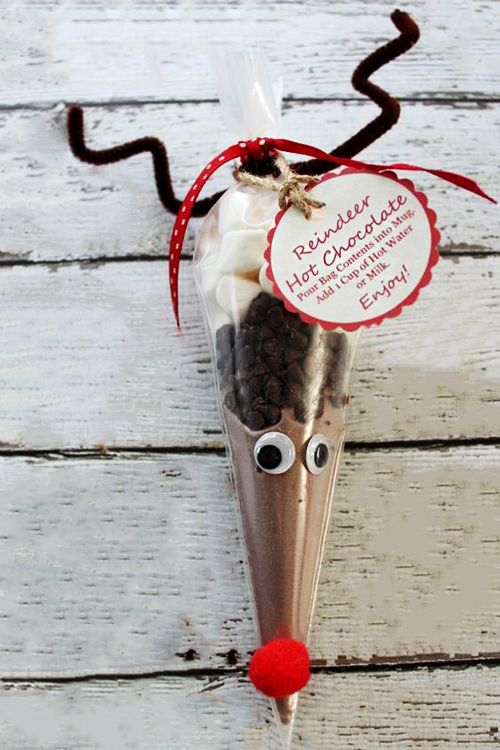 Start by filling a piping bag from the cake-decorating aisle with one serving of hot chocolate mix. Add mini chocolate chips and mini marshmallows to the top. Then, use a glue gun to attach googly eyes and a red pom-pom for the nose. Twist a brown pipe cleaner around the top, and bend it on both sides to make antlers. On a card, write instructions for making the hot chocolate, hole-punch it, and tie it on with ribbon.
6. Reindeer Noses
For a quicker reindeer idea, fill clear bags with malted milk balls and one cinnamon ball. Add a gift tag that says "Reindeer Noses."
7. Treat Roles

You remember Tootsie Rolls…well these are even better because they hold more treats. And they're easy to make with items you probably already have at home. All you need is wrapping paper, ribbon, either a paper-towel roll, bathroom tissue or wrapping paper tube, tape, and small candy or toys. Treat the tube just as you would any other gift you'd wrap, only fill it with the candy or small toys, and seal the ends. 
8. Merry Christmas Cross Ornament
You'll need Scrabble or alphabet tiles, card stock, double-sided tape, glue, and string. For each ornament, make sure you have enough letters to spell Merry Christmas (subtract one r for the letter that overlaps).
Start by cutting two strips of card stock to put the words Merry and Christmas on. Put double-sided tape on one side of each card stock strip.

Then, use the letters to spell Christmas vertically. On the other piece of card stock, put the letters m and e horizontally. Overlap the two pieces at the first r. Then, add the last r and y. Glue a loop of string on the back, and it's ready for your students' Christmas tree!
9. Extra Special Christmas
For older students, wrap a pack of Extra gum with a little ribbon and a tag that says "Wishing You an Extra Special Christmas." If you wish, add the reference John 10:10b.
10. Candy Cane Christmas Poem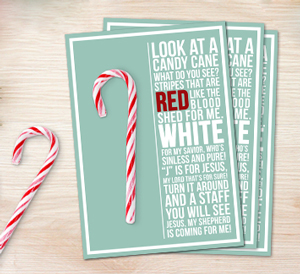 It's simple and sweet. Just print this candy cane poem and tape on a candy cane.
11. Glow Sticks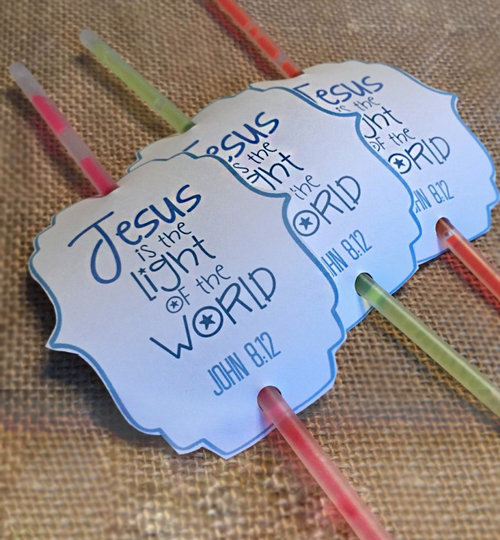 Celebrate the birth of Jesus by giving a glow stick with a label that says "Jesus is the light of the world," based on John 8:12. Create your own label or use a printable like this one. The title says it's for Valentine's Day, but it can work for Christmas too. Punch one hole at the bottom and one at the top, then slide the glow stick through.
12. M&M's Christmas Poem
All you need is a little jar or plastic bag and some Christmas M&M's. Print out this poem and attach it to your jar or bag with tape or ribbon.
Once you've created an idea from this list, your students will always have the memory of the special treat that you, their (hopefully) favorite teacher, gifted them for Christmas.