Senior year goes by in a blur—perhaps even more so for teachers! It can be a bittersweet experience transitioning a class of seniors from one phase of life to another.
During this busy time, try a few of these ideas to make this milestone even more special for your students.
1. Have a "Kodak moment."
Nothing is inspiring like seeing how far you've come.
Have a day near graduation when every senior brings in a picture from their first day of school—ever!
Ask the school photographer to come and snap a photo of each senior holding their "first day" picture on one of their last days. Then put it on a slideshow and feature it during the graduation reception!
2. Put memory lane in a jar.
Keep a jar at the front of the class throughout the year and encourage your students to drop "favorite memories" of the day or week inside.
You could decorate the jar yourself or—better yet—ask students to do it for you. For the easiest decoration, use a free printable (http://www.celebrations.com/c/read/graduation-memory-jar).
Once a month, pick out a few students to read a memory for the class. It's a simple, nostalgic way to keep the moments special all year.
3. Top off your party favors.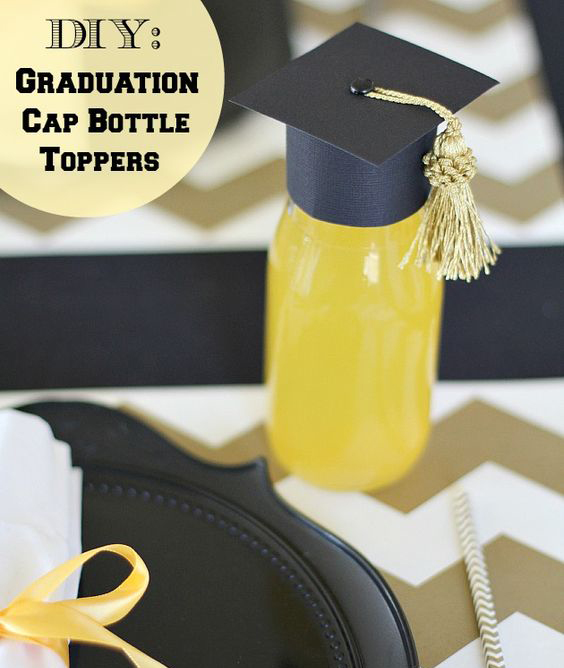 Photo Credit: Chris Nease
Personalize soda bottle caps to look like graduation regalia and leave one on each desk as graduation gets closer.
It's as easy as a taped strip of cardstock to loop around the mouth of each bottle and another square of cardstock on top as the "mortarboard." Bring the whole cap together with a brad and a tiny tassel.
4. Set up a photo booth.
Photo booths are a growing attraction at big events—and a great addition to your school's graduate reception!
Save yourself money and add some flare to the event by easily assembling a PVC photo booth. Put out your own props and personalize the booth with the graduating class's year or any backdrop you want.
This is a way to get everyone involved—not just the graduates—and best of all, you can reuse it year after year!
5. Build a guest book.
You've most likely seen creative guest book ideas—how about making it interactive?
Try using a Jenga guest book; each guest can sign a block with their name, favorite memory, and/or favorite verse reference. At the end of the graduation celebration, each graduate who participated will have a special keepsake.
Our college preparatory curriculum will put your seniors in a position to succeed in life.
SHOP 12th GRADE