Celebrating a graduating senior can go by in a blur—especially for moms! It can be a bittersweet experience trying to take in the tearjerking moments while making sure it all goes smoothly.
Here are a few ideas to help this celebration go a little smoother.
1. Put your senior on display.
This can be accomplished in several different ways. Here are a couple of ideas:
A display board gives friends and family one big snapshot of how your child has grown over the years and what he loves.
Pull out that photo album you have built over the years
Get your senior involved. Have him gather several awards or hobbies that represent his senior year to display.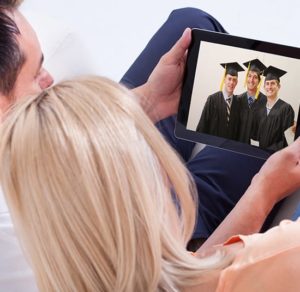 2. Purchase or make an official diploma.
The only difference in graduating from home is that you do not have a school secretary to order your diploma. It is as simple as searching "Homeschool diploma." You will be surprised at the number of companies that will create a beautiful and unique diploma just for your graduate.
3. Tie your own tassel.
It's simple to make tassels to use as decoration for cards (invitations or thank-yous) or party favors. All you need is embroidering thread, a pair of scissors, and a piece of cardboard!
The tassel is made by wrapping layers of thread around the cardboard piece. Remove the cardboard, fasten one end, and cut the ends on the opposite side.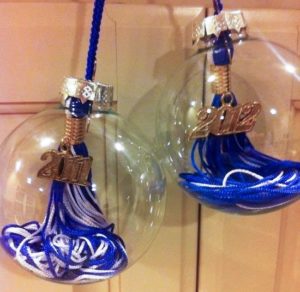 Photo Credit: Simple Solution Diva
4. Dress up the dessert table.
Even the snacks you make for a graduation reception can be extra special with a little extra attention!
Put a square of chocolate on a brownie bite for a graduation cap and mortarboard treat. Then frost on a tassel or use sour-string candy in bright colors. These look cute by themselves or with little-personalized notes rolled up into the shape of diplomas.
If time is running short and you need one more idea, what about a diploma cookie. Tie a little red ribbon around a Pirouline Rolled Wafer, and enjoy!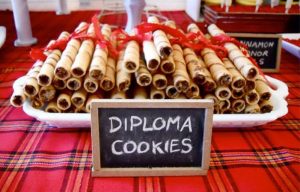 Photo Credit: Lindi Haws
5. Top it off with a card.
The little details will make this a special time for your senior. Try a twist on your "congrats, grad" card by folding it into the shape of a regalia hat.
Try this cute idea when tucking that special note from Mom and Dad into your senior's pocket on the big day.
6. Hang a photo timeline.
Nothing is as inspiring as seeing how far you've come.
Take a picture of your senior holding up a picture from his first day of school.
Or, for even more of a walk down memory lane, try hanging up a picture of your senior from each grade! This could be for a reception party or just for the few months leading up to graduation.
Remember, this is a milestone for both you and your child! You both have worked so hard to this point; it is definitely something to celebrate. Take plenty of pictures and enjoy every moment of this amazing day!
Photo Credit: Sevyn Ezra Photography