Updated June 27, 2019.
Education is a wonderfully gratifying profession. But did you know that many teachers are responsible for purchasing their own classroom supplies? From disinfectant to bulletin board displays, and everything in between, these supplies add up quickly. The financial burden can be a serious challenge for many dedicated teachers. But by thinking outside the box and talking to our friends at Pensacola Christian Academy, we were able to compile a list of ways to help teachers pinch pennies in the classroom.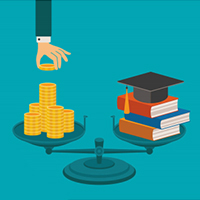 1. Spend More On Long-Term Needs
While it may seem counterintuitive, when purchasing classroom decorations or essentials you use every year, it's ok to spend a little extra on quality products that will last. The same goes for the time you spend assembling classroom decorations and engaging visuals. Invest a few extra hours and construct them to withstand the test of time. Avoid using tape, and try to use staples that easily pop out of boards. That way, you can re-use the items again next year, and maybe even the year after. Buying in bulk can also help to save money in the long run, especially for those items you know you'll need more of in the future.
2. Shop Around
Always shop around for the best value. It's easier than ever to compare prices online, and you may even be able to find promo codes or online-only sales. Visit consignment shops and yard sales for classroom storage and other furniture items such as tables and bookshelves.
3. Hold Onto Your Receipts
Looking back is a great way to plan for the future. Save receipts as reminders of what you spent on purchases that may need to be made again next year. For example, when budgeting for this year's Christmas party decorations, review past receipts for a better idea of upcoming budgets. And don't forget that many expenses can be used as tax deductions, so you'll need to keep your receipts for tax purposes too.
4. Ask Your Fellow Teachers
Teachers are always willing to help other teachers. Ask each other about which school supply stores offer discounts to teachers or search for those online. Or even find out if there are any teachers who want to split the cost for supplies you both need.
5. Need Versus Want
We're all guilty of impulse purchases. One of the best ways to save money is to make sure that you really need an item. Take a few days to think about a purchase, especially for more expensive items. Reevaluate how it will be utilized in the classroom and, most importantly, how it will benefit your students.
6. Include Parents
Sometimes it's as simple as asking for help. You might be surprised how many parents are interested in donating supplies that students will need throughout the year. Before the new school year starts, make a wish list of items that parents can purchase for the classroom while shopping for their children's school supplies. For special events such as classroom parties, send home sign-up sheets so parents can volunteer to bring in refreshments, decorations, and even party favors. Don't try to take it on all by yourself.
7. Wait Until After the First Day of School
Everything goes on clearance after a holiday has passed. It's the same thing after the first day of school! If you can hold out and purchase supplies after the first day, you're sure to find some sales and snag some clearance items. And if you can't live without the supplies on the first day of school, it's still a good idea to stock up on materials for next year during after-season sales.