(Or: Your Guide to College Prep without a 5,000-Step-Checklist, a High School Principal, or a Mental Breakdown)
You've probably heard it's hard to get your high schoolers ready for a college campus. But what if it doesn't have to be?
College prep can actually be very simple. You just need to know what you're doing!
So here's how you can confidently prepare your high schooler for college—
broken down into just 5 simple steps.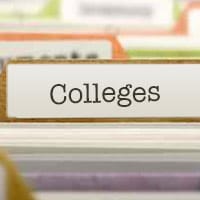 1. Keep Good Records.
Simple enough, right? You might even be doing this already.
Keeping the little things in order each day at home is going to save you TONS of time (and sanity) long-term.
Make use of folders, dividers, and binders. They will be the "glue" between dozens of details you're keeping track of throughout the decision process.
Make a binder and have separate sections for financial aid information, scholarships, and applications—this is a practical way to compare your options and keep track of all the information coming in.
And for yourself, organize a binder with detailed records of credits, extracurricular activities, courses taken, and specific grades (number grades and letter grades).
Speaking of grades, check to see whether or not the college you're looking at requires an accredited diploma.
If it does ask for an accredited high school diploma, explore your options for having your child's homeschool education accredited, like through the Abeka Academy Accredited Program that uses Abeka textbooks and lessons on video.
2. Know What Credits Are Required.
Knowing the kinds of subjects to take and how many years of each can make all the difference as you prepare your high schooler for college.
If you're following a curriculum plan, you may already have a basic idea.
Your four-year high school plan should focus on courses required for college admission. This actually gives you a LOT of flexibility, but here's roughly what most colleges expect:
English—4 years
Math—3-4 years
Science—3 years
Foreign Language—2-3 years
Social Science—3-4 years
Health and PE—1-2 years
Fine Arts—1 year
You can print out this template and fill it out yourself so you have a visual. (You'll also see examples of courses that would meet requirements for each subject area.)
3. Plan for Standardized Testing.
As your child gets into junior and senior year, write down dates for the SAT or ACT ahead of time. Allow enough time before the test for studying and taking at least one practice test.
Encourage him to test early on so he has the flexibility to try for higher test scores.
If you already have specific colleges in mind, look at their sites to see if they require a certain score. If you aren't thinking of any particular colleges yet (we understand!), this article from the Princeton Review gives you an idea of which scores colleges are looking for: What are Good SAT Scores and ACT Scores?
Taking the PSAT before junior year is a good idea, too, since it gives your sophomore a trial run before the actual test. Plus, it gives her more time to qualify for the National Merit Scholarship Program.
4. Make a Calendar.
This is pretty self-explanatory, but extremely useful. Plug all the information you have into a timeline you can easily follow.
Record due dates for scholarships, SAT or ACT tests, and application deadlines. As your high schooler gets farther along, dates will begin to come up everywhere. Jot them down as they come instead of letting them pile up in the back of your mind.
Use the calendar on your tablet or phone and have notifications sent to you days in advance. And set the reminders to automatically forward to your high schooler so both of you can keep track of what's going on.
Include asking for letters of recommendation. You'll need these for applying to colleges, and you don't want to have to rush getting them.
5. Ask Questions.
At the end of the day, you still might have questions for your unique situation. So know your resources, and don't be afraid to ask!
How much exactly is tuition, room, and board? What scholarships are available to you? What about jobs on campus? Will your college student need a car?
Is your child interested in a specific major? Ask about that too! If it's engineering or nursing, look for classes he can be taking now. If it's art or music, see if there are any portfolio or audition requirements.
Questions like these can directly affect how you're preparing now. Don't be afraid to call colleges or e-mail them any questions you can't find the answer to.
They're a business; you're the customer. If you have questions about their product, ask anything you need to know to be sure that the college is a good fit for your son or daughter.
And, more than anything, remember the advantage your child has as a homeschooler. According to HSLDA.org, homeschoolers consistently have higher GPAs, SAT/ACT scores—and graduation rates—than the national average.
That's not pressure to make your child the next Einstein—it's an encouragement that you can give him the individual attention and preparation he needs to be ready for college.
Abeka Academy video lessons are an easier way to homeschool for both new and experienced homeschoolers.
SHOP ABEKA ACADEMY