Though the new 4th grade is well underway (and we're very excited for you to see it), materials won't start being released for preview orders until this fall.
Since Abeka's 3rd grade revisions brought such a balance between adjusted pace, increased rigor, and added critical thinking, many of you are wondering what moving students from the new 3rd grade to the current 4th grade will look like.
That's a very valid question.
We hear you!
Read on to see 1) how your students will take a natural step up in rigor and 2) which supplemental activities you can add.
Step 1: Note the Progression from New Abeka 3rd
to Current Abeka 4th
Take a few minutes to explore the increased rigor from 3rd to 4th grade. The confidence you gain will be well worth your time!
Here's a quick example of the progression: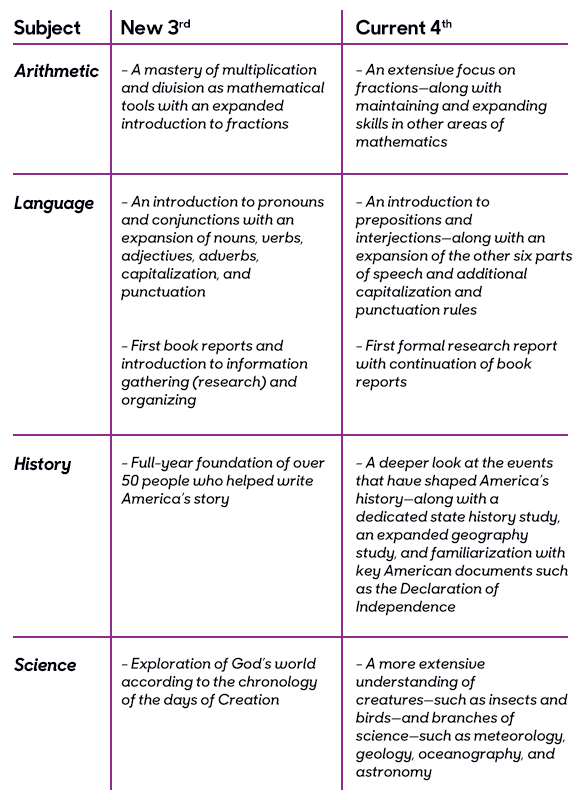 To see everything taught in 4th grade, read 4th grade's detailed Scope & Sequence. Red indicates first introduction of content (and you'll see quite a bit of red).
Step 2: Add Supplemental Activities As Desired
From what you saw above and in the detailed Scope & Sequence, you know your 4th grade students will continue to be challenged with Abeka.
But what if you want to extend some of the 3rd grade curriculum's benefits into the 4th grade learning experience?
Take these easy-to-implement activities and plug them into your classroom where you see fit:
1. Incorporate literary concepts like plot, author intent, and cause/effect into your reading-selection discussions. (The 3rd grade detailed Scope & Sequence will show you all the literary concepts your students learned last year. To see how they were taught, take a look at the 3rd grade readers' teacher editions.)
2. Introduce writing opportunities into penmanship practice. To know what your students are ready for, flip through the second half of Writing with Purpose 3 or the 3rd grade detailed Scope & Sequence.
3. Use the scientific method along with the activities and demonstrations in Understanding God's World. For a colorful visual, click to download the free illustration below.

4. Look for opportunities to allow your students to apply their knowledge and incorporate problem-solution thinking. Help them analyze, predict, solve, evaluate, and create. Think about how you can exercise the scientific method in all subjects, and ask these questions often:
Even though you don't yet have the revised curriculum, you'll be able to make 4th grade amazing for your students—as always! If you need help along the way, we're here for you.
To find out when the new 4th grade materials are available to preview, sign up for updates in the Connect with Us area below. When you do, you'll get an e-mail as soon as each new item rolls off the presses.