Updated October 1, 2019
Are you looking around your house thinking, "What happened here!?" Life happened! But don't worry. We've been in your shoes at the beginning of the homeschool year a time or two (or 30), and we have a few tricks up our sleeve. Jumpstart your school year with these homeschool organization tips.

Make a List
Each day, write down the absolute, most important, non-negotiable things you need to get done. Once you have a list together, you'll be able to make a schedule to complete it all.
We asked a mom of 25 years for her list, and here's what it looked like. Of course, your list will probably be different from hers, but it gives you somewhere to start!
Devotions
Coffee
As much school as possible before lunch
Slow down to listen to what each child is saying
Get everyone out to exercise
Everyone completes one chore
Take breaks
At least one load of laundry
Plan meals for the next day

One Drawer a Day
Choose one thing to clean out a day – whether it's a drawer or a tabletop – if you do that, you'll spend a lot less time wading through the chaos, and a lot more time figuring out what works for you when it's time to hit the lessons!
And if one of those days, you just don't have any time to put things away? Keep one main basket to throw the clutter into. Then put it all away right at the end of the day instead of letting it collect.

Decide What You Need
Rather than pulling out a box full of school supplies and sifting through it by deciding what you don't need anymore, try it from a different angle. Pull out what you do need instead.

Look at what's left and see if you need it. If you don't need it, you won't use it. If you're not using it, it's clutter. Throw it out or donate it!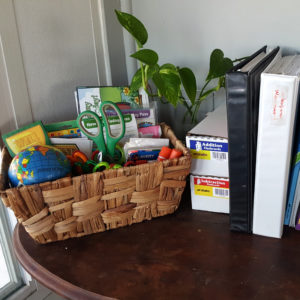 Plastic Bins, Mason Jars, & More
Put toys, décor, and last year's textbooks in plastic bins. Seeing things stacked in a box in the closet will feel more organized than seeing the same things stacked without a box. Plus, labeling them will help you find what you need when you need it.
Use over–the–door shoe–hangers to store school supplies next to the kitchen table. Or loop shower curtain rings over a hanger to store scarves, keys, and sunglasses. Try using Mason jars to organize pens, pencils, or bathroom supplies. Lazy Susans can also be lifesavers in your pantry, cabinets, or even your fridge.

But you can get creative with your storage, too. If you have fun, colorful storage containers, by all means, use those! And be sure to post a picture on our Facebook page or Instagram and tag us. We'd love to see how you organize your homeschool space or even your homeschool storage closet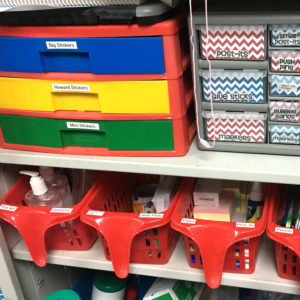 Label Everything
Never underestimate the power of masking tape and a Sharpie.
Start by centralizing what you're organizing. For example, keep all the boxes labeled "toys" in the playroom, or all the little baskets of medicine on one labeled shelf in the bathroom cabinet.
If you're labeling binders for old schoolwork, stay consistent in the way you organized them. You'll save yourself half the work when you don't have to go back and reorganize.

And somehow, there are always seems to be other sentimental items lying around that never get put away because they don't really have a specific place to live. Label "memory" bins for each child to put their favorite memorable items in, like cards, pictures, certificates, childhood blankets, and other things that are near and dear to them.

Clothes Pins, Safety Pins, & Hooks
If something's normally flung on a chair, you probably use it often enough to stick a Command hook on the wall to give it a "parking spot."
Here's a time-saving tip to prevent from the dreaded single sock situation: leave a basket of clothespins next to the dirty laundry basket, and have your kids clip their socks together before tossing them in.
Pin loose buttons, paperclips, and even other safety pins together, then keep them in a jar in your school area.

Set Up the Night Before
Have everyone set out their schoolwork and supplies each night. Make sure there isn't anything missing from the workspace that could slow down a quick start to the new day.

If you're all heading out early in the morning, enlist everyone's help to pack up the car the night before, so the morning take-off will be simple.

Try asking the kids to pick out their outfits and place them at the end of the bed before bedtime. Wearing PJ's all day can be a blast, but it can also be nice to get ready and feel like the day has truly begun. 


Get Everyone on Board
We've all heard the phrase, "no man is an island." Well, it's true! Incorporate your family "team" into the mission of keeping things organized this year. Make it a team effort, and find ways to reward your kids when they take initiative.

Show them why organization makes things easier and how they can help do it alongside each other. Slowly they'll realize why organization matters and pitch in without your asking.