How many times in a week do you walk into your homeschool space and see papers strewn across the table in some version of stacks, teacher edition books earmarked and scattered around, and think to yourself, "I have GOT to get organized. And where did that red pen go?"
According to moms who do this every year, there is light at the end of the tunnel. Getting your homeschool curriculum organized may take a little time, but it's very doable, and once you get there, life will be so much easier. Fortunately, homeschool moms love to share their tricks and tips, and here's one that is tried and true: the crate method. 
The Crate Method
The idea behind the crate method system is that you do the work on the front end to get daily (and weekly) worksheets and lessons pulled together in one place, so that each day, all you have to do is pull out that tab (or that binder) and go. By the end, you'll have an organized system for each of your kids' weekly schoolwork for all 40 weeks of school. 
Step 1: Start by pulling out each day's worksheets and stacking them.
Get out your video manuals or lesson plans and accompanying workbooks, and pull out each lesson's worksheets for each day, and stack them together. Then, file them together by day of the week into a filing folder. 
**Note: There will be some textbooks you won't want to pull the sheets out of. Notating that in a planner will help you remember.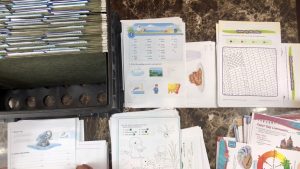 Step 2: Group the daily lessons into weeks.
Take the daily grouped lesson sheets for each week and place them into their own three-ringed binder for easy access. Using a clear, two-pocket (front and back) filer, place each day's lesson sheets inside the frontside pocket. The backside pocket can be used for your child to add his or her completed work each day. Label the file for each day of the week with a tab. 
Repeat steps 1 and 2 for all 40 weeks of the school year.
Step 3: Place weekly lessons into the crate by week.
File each week's lesson into the crate in chronological order for the school year, and place it somewhere easy for you and your kids to access every day. That's it! You're done.

Pro Tips:
➔ Keep the books you don't tear the lessons and worksheets out of in a separate bin for easy access.
➔ If you don't finish a lesson or worksheet one day, having a planner on hand to make notes in and reference the next day will help you stay on track.
➔ If you plan to tear out pages for the crate method, purchasing unbound books will make it easier.
➔ Color-coding your subjects when you're organizing your manual is a helpful trick. Label sections of your manual to match the color of the corresponding folder or binder for each subject.
➔ Try using the same-color highlighter or pen for each task or activity you find to be regularly included in the teacher edition or manual. For instance, use a pink highlighter to bring attention to places within the teaching manual for review, a blue highlighter for math speed drills, and orange for the reading practice outlined. And then keep a notecard with the color code for yourself, in case you forget.
Do you have an awesome way to organize your Abeka Homeschool curriculum each year? Leave us a comment at the end of this post, or share it on our Facebook page! We'd love to hear from you. 
If you'd like to see a real mom taking on the crate method, here's a super-helpful video created by an Abeka mom on YouTube.