Consider using those extra Christmas knick-knacks to create a new piece of decor this year! With this neat little poinsettia pinwheel idea, you'll be able to create a new memory with the class.
Supplies Needed:
Red construction paper

Green construction paper

Paper straw

Large brad

Small jingle bells

Scissors

Glue
Step 1:
Cut two 6″ long leaf shapes out of the green construction paper. Cut two 6″ squares of red construction paper and fold them diagonally corner to corner in both directions as shown. Then unfold.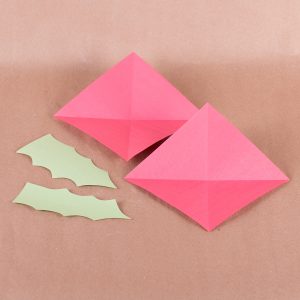 Step 2:
Cut the red construction paper from each corner 3/4 of the way to the center. Place the square on the table with one corner facing you. Bend the paper along the right side of the cut line to bring the point to the center of the square. Secure with glue. Repeat for the other three corners.
Step 3: 
Glue three jingle bells to the top of the brad.
 Step 4: 
 Push the sharp end of the brad through the paper straw at one end as shown.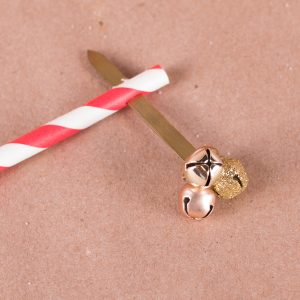 Step 5:
Remove the brad from the paper straw. Make a small hole in the center of the pinwheel and push the brad through the pinwheel front to back. Then push the brad through the straw once again. Make a small hole in the paper leaves and push the brad through both behind the straw. Open the brad to secure the construction paper to the straw.