Your kids remember you said spaghetti for dinner, or that you promised an outing to the park. They remember when dad comes home, and all the funny one-liners they read in their comic books.
So with that much capacity why can't your kids remember their spelling words!?
According to Theodore Kinni, author of Be Our Guest: Perfecting the Art of Customer Service, memory is strongly linked to our five senses—sight, sound, touch, taste, and smell—and incorporating those into learning increases memory.
Next time everyone sits down to memorize, try using some of these tips to help with those spelling lists!
1. Use SIGHT.

It turns out that seeing is not believing—it's actually mostly "receiving". Kinni points out that "about 70 percent of the body's sense receptors are located in our eyes, making sight the greatest transmitter of setting."
Use that 70% to your advantage! There are opportunities all around the house to mix sight together with spelling.
Disclaimer: The importance of reading cannot be overemphasized. Sight and memory are constantly reinforced through reading, so keep the books coming!
But try some other "visual reinforcements" around the house, too…
Both younger and older ones can write out their spelling words on the windows or bathroom mirrors with a dry erase marker.
Put up a list of those hard-to-remember spelling rules, or print them out and laminate them to use as place mats!
Shamelessly use your house space to show tough spelling words.
2. Use SMELL.

Use smell to make spelling make "scents". (Try saying that three times fast!)
Did you know that the sense of smell is the most closely linked with our memory? Sense of smell is carried closer to the brain stem than any of our other senses.
Basically, using our noses is one of the best ways to learn information and then remember it!
Remember scented markers? They're still a thing! Give scented markers to your elementary children, or scented gel pens to your high schoolers. Assign them each a certain scent to write out their spelling words.
These familiar smells may be just what your kids need to jog their memory at test time.
3. Use TOUCH.

What is the body's largest organ again? You've probably heard it before—our skin.
People like to touch things. It's the reason petting zoos and hands-on science museums all stand out as memorable experiences to us.
So use that too! Try spelling out words with Scrabble pieces. Sharpie the words onto bubble wrap, and let your kids "pop" the letters as they spell.
4. Use SOUND.

Many use music to help them study. There's science behind this!
Chris Brewer with Johns Hopkins School of Education says, "Music stabilizes mental, physical and emotional rhythms to attain a state of deep concentration and focus in which large amounts of content information can be processed and learned."
Play classical or instrumental music in the background during spelling seatwork or vocabulary recitation. This is an easy way to get everyone "into the rhythm" of their spelling memorization.
You can also have your kids record themselves reciting their spelling words, then play the words back while doing chores, riding in the car, etc.
5. Use TASTE.

Our minds are definitely cued in where taste buds are involved.
So—maybe you've guessed it—make spelling a food event.
Trending nowadays is alphabet everything, from ABC's in cereal to alphabet-shaped pasta! Keep mouths watering with alphabet gummies or pretzel snacks for when practice tests are finished and spelling books are stacked away for the day.
Using the five senses in spelling will be a learning experience your kids won't forget. So have fun with this, and don't be afraid to mix in a few of your own ideas!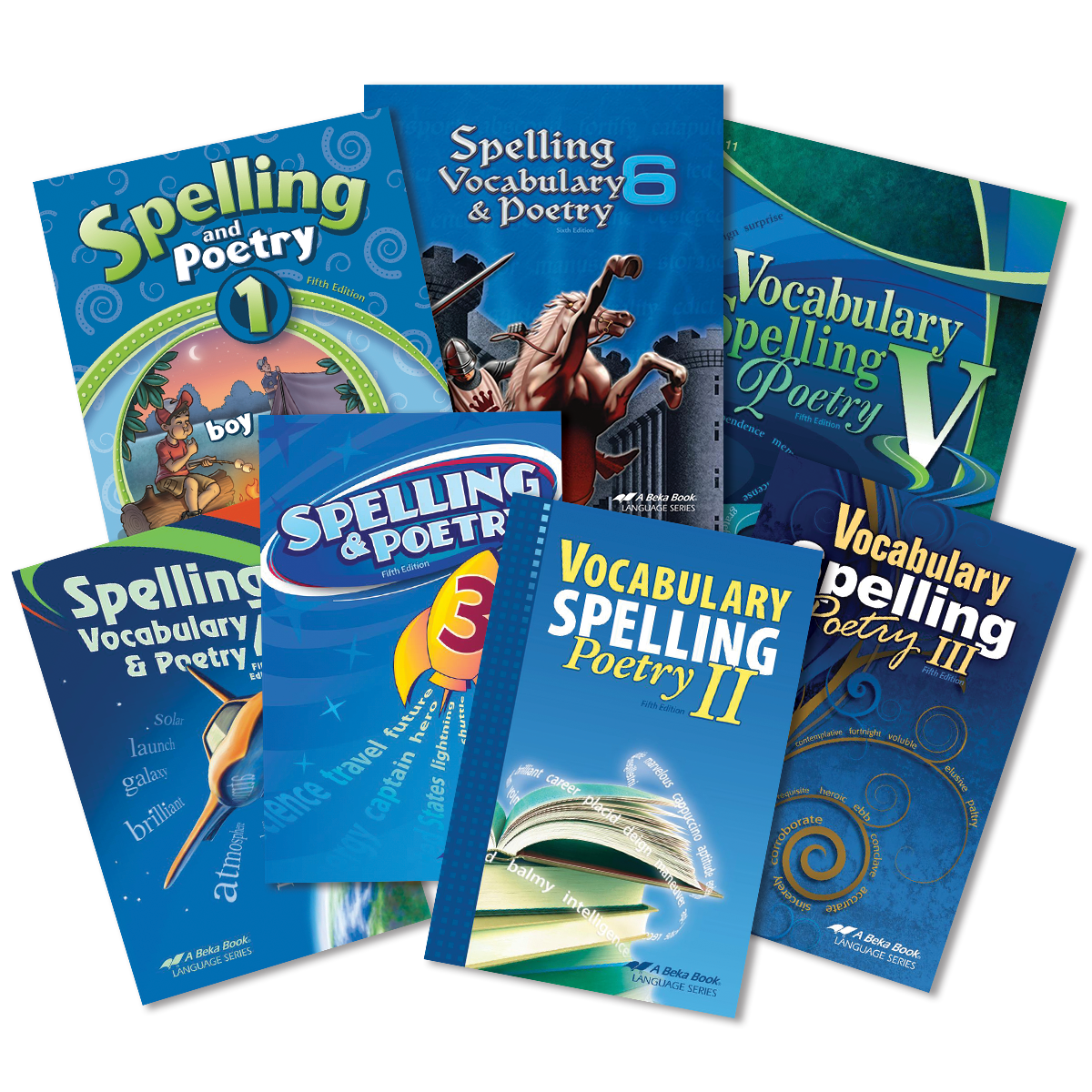 Abeka offers lots of ways to help you teach spelling.
SHOP SPELLING