There's so much to learn from the past—and even more to explore in the world. Why not make your history and geography studies a culinary adventure!
Here are three ways to do that based on actual topics covered in the Abeka History and Geography program.
1. Cowboy Pockets
As children learn about the people who made America great in our 2nd grade textbook, Our America, they'll discover patriots, explorers, native Americans, and cowboys. This treat imagines the kind of meal a group of caballeros might have put together around an open campfire.
(Of course, they might have used a cut of beef or wild game, but our recipe calls for ground beef.)
Ingredients:
1 lb. ground beef, shaped into patties

Onion, peeled and sliced

Potatoes, sliced thin

Carrots, sliced thin

One 12" x 12" sheet of heavy duty aluminum foil per serving

Salt, pepper, and garlic powder to taste
Place first four ingredients on foil sheet.
Season with salt, pepper, and garlic powder.
Fold foil into a pouch until sealed.
Bake at 350º for 45 minutes.
Serves 3-4
(For the complete pioneer experience, make this meal next time you camp or have an open fire. Rake aside some hot coals and set pouches directly on them at the edge of the fire for around 30 minutes.)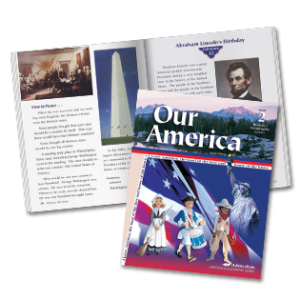 2. Chocolate Mousse
The Eastern Hemisphere is the focus of history and geography studies for 7th graders. In World Atlas and Geography Studies of the Eastern Hemisphere (which works in conjunction with History of the World and other texts), they'll identify and label important cities, countries, rivers, mountain ranges, and deserts. And with this recipe, they'll also get a taste of a traditional French dessert!
Ingredients:
2 cups heavy cream

10 oz. dark (bittersweet) chocolate, crushed into tiny pieces

Chocolate shavings for garnish
In a double boiler, slowly heat chocolate pieces.
While chocolate is melting, beat heavy cream until peaks just begin to form.
Fold melted chocolate into cream without overmixing.
Divide equally into serving cups and chill at least one hour.
Sprinkle shavings onto mousse just before serving.
Serves 4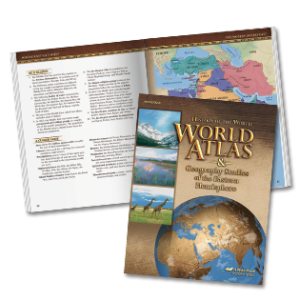 3. Orange Kumara Chips
Fifth graders learn about international lands and cultures through Old World History and Geography. This yummy side dish from New Zealand can go with lots of meals. And don't let the name throw you off – kumara is Maori for sweet potato.
Ingredients:
2

kumara

(sweet potatoes), medium and unpeeled

2 Tbsp Olive oil

1 Tbsp Salt

1 lime, zested

1/8 tsp chilli powder

1/8 tsp paprika

1/8 tsp red pepper flakes

Black pepper to taste

1/4 cup chopped fresh cilantro
Place kumara in a pot of water and bring to a boil, then reduce heat and simmer 15 minutes.
Drain and let cool.
While kumara is cooling (about 15 minutes), preheat oven to 375 degrees and combine salt, lime zest, chili powder, paprika, red pepper, and black pepper.
Slice kumara into wedges and place on rimmed baking sheet.
Brush with oil and sprinkle spice mix.
Bake for 20 minutes or golden brown.
Sprinkle with cilantro before serving.
Serves 4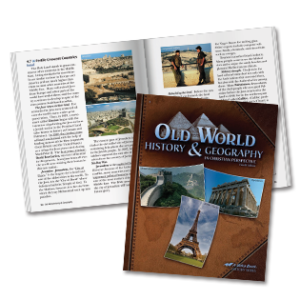 Old World History and Geography can be purchased individually or as part of a full-grade or subject kit.