Updated November 12, 2019
Think back on all the Thanksgivings of your past. What do you remember most? It's not the creaminess of the gravy, whether the turkey was dry, or the fall-infused lattes. You remember the time spent with family, the smells, and your mother cooking in the kitchen….and all the traditions that made those holidays so special. This year, don't let Thanksgiving turn into just a mad dash to get the turkey prepared in time – spend time building the family traditions that your children will remember for years to come.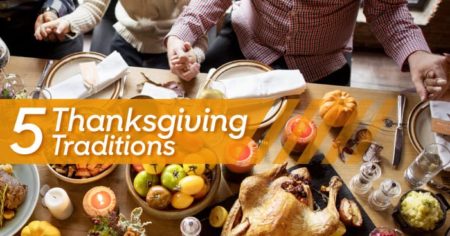 Tip #1: Get everyone involved.
This can be easier said than done because Thanksgiving lineups often include a variety of ages. But whether you have grandparents or toddlers or everything in between, everyone can bring something "to the table." Try out some of these creative ways to get the entire group involved.
Everyone
Before the big day arrives, ask each family member to pick a can't-live-without side dish, then have them bring along the recipe, and help you make it! Or, if they want to make it at home, they can bring it along, potluck-style. 
Young and Elder Guests
Have them ceremoniously play the first Christmas music or light the tree. To start the meal, ask them to offer a prayer or read scripture for the group. At the end of the meal, have them serve the dessert. 
Men Who Aren't Cooking (because some do. . .)
Get them involved by encouraging them to facilitate outdoor game ideas. They'll enjoy playing with the kids. Who doesn't love to throw a football around in crisp air and the fall sunshine? 
Teenagers and Men (not that they are equal. . .)
Offer a prize to the fastest to volunteer to wash and dry dishes. Tell them to pair up into teams of two, and the team that can wash and dry the most dishes in a pre-determined amount of time wins – each team alternating until the dishes are completed. The winner gets a nap! Or maybe the first serving of dessert?
Tip #2: Express your thanks.
This is the tradition with the most impact. Find the one that fits your family best. Most Christian families join hands and pray together to give thanks on this day. But there are other ways to highlight the things in our lives that we are thankful for. 
Scripture
Ask everyone to bring their favorite scripture that reminds them of what they are the most thankful for or why they are thankful. Go around the table and let everyone read their chosen scripture and explain the meaning with the group. 
Blessings Tablecloth or Book
Each year, use a paper tablecloth or bring a book along, where everyone can write down what they are the most thankful for that year. By holding on to the tablecloth or book, each year, the family can reflect on the year past, and appreciate the new year's blessings. 
Go Around the Table
If there's no time to pull together everyone's favorite scriptures or a tablecloth or book, everyone can go around the table and take turns reflecting on the blessings in their lives and what they are the most thankful for. 
Tip #3: Get everyone moving.
Thanksgiving is about focusing on our blessings and being thankful, but it's also about FOOD. Exercise is a great way to balance a holiday whose main attraction is food. Get the family moving with a few of these fun activities. 
Get Outdoors
Play touch football, whiffle ball baseball, or enjoy a hike or walk. An outside of the box option is "Turkey Tag." Attach decorated clothespins to your kid's clothes; play chase; the first one to get all the pins, wins. 
Pick an Indoor Activity
If the weather keeps you indoors, try a turkey shoot. You'll need toy Nerf guns, helium balloons, and a decorated turkey. Or, if you're too full for that, sit down with your family, turn the TV off, and grab a good board game. 
Tip #4: Remember others.
Thanksgiving means both thanks and giving. Don't forget about the people you may know who may not be able to spend time with their loved ones over the holidays. Even a small gesture could mean the world to them on Thanksgiving. 
Invite someone
It's easy to forget about these figures in our lives, but they are in our churches, schools, neighborhood, and even at work. They don't have family around, or they cannot travel home to see theirs. It could be a college student, a widow, or even a young couple who's new to town to your family's celebration – invite them over to be a part of your family's celebration. 
Drop off a treat
Check-in with neighbors by going on a Hot Chocolate Walk. Sip on some hot chocolate while dropping off cookies and sharing joy and gratitude to your community. You could also deliver tasty leftovers to the hard-working civil servants at the local firehouse or police station. 
Donate
Have your kids donate a box of toys to a local charity for children spending Thanksgiving in the hospital or a shelter. Leading up to Thanksgiving, there are also ways to donate canned goods to families in need. A good place to start is Feeding America.
Tip #5: Make it memorable.
Thanksgiving revolves around family. And your family is unique – this year, start making your own unique traditions. 
Make It Memorable
Take a family photo each year, Whether it's of the kiddie table, the guys sleeping, or games going on outside, capture the memorable traditions on film to share with generations to come. 
Award Prizes
Does each of your family bring a dessert or side? Vote on the best, and award a prize!. 
Make a Movie Tradition
Some of our favorites are Charlie Brown Thanksgiving or It's a Wonderful Life, but have your family pick one that you all love, and watch it each year. 
Include Family Members Who Couldn't Make It
Thanks to Facetime and Skype, it's easy to contact the relatives we love that couldn't make the trip for Thanksgiving. (Consider synchronizing meals using Facetime; this way the entire family can pray together online.)