Every parent wants to see their child excel academically, so homeschooling has become a must for many families. The question is, how and where do you start? This blog will walk you through it all, step by step, from how to find the homeschool laws and limitations of your state to how to get the most out of lesson plans. Armed with a little knowledge, you can do this! Let's get started.
Know Your State's Homeschool Laws
Each state handles homeschooling differently. A few states require no notice, while others require that you simply notify your state and/or local school authority (school board, county superintendent, etc.) that you'll be homeschooling. There are some states, however, that have more regulations through the state board of education. To research the laws in your state, you can visit the Home School Legal Defense Association's website at HSLDA.org.
The HSLDA advocates for homeschoolers and has free online resources, including a summary of homeschooling laws for each state.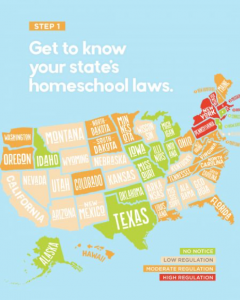 States May Require:
A notification when you begin homeschooling
A scope and sequence of what your child will be learning that year
A copy of your child's test and quiz scores (including standardized tests)
A portfolio of records, materials used, and samples of your child's work to be submitted at the end of the year
An evaluation of your child's portfolio by a certified teacher regardless of your state's requirements
Just know that 3.7 million homeschoolers are meeting state requirements every day—and you can too!
Some homeschoolers choose to keep a transcript of their child's progress or participate in standardized testing even if it's not required by their state. This makes for an easier transition if you move to a state with more homeschooling requirements.
Choose Your Curriculum
Picking your curriculum provider can seem overwhelming. There's choice after choice, and they all promise results. So how do you choose? Read on to explore the many considerations that parents must make when selecting their homeschool curriculum.
Learning Preferences and Styles
You've probably heard a lot about learning preferences or learning styles (sensory, visual, auditory, etc.), but did you know you don't have to figure out your child's learning preference before you choose a curriculum?
It's important that you don't look for a curriculum that is tailored to only one learning style, even if you already know your child's learning preferences. Instead, look for a curriculum that incorporates all of the learning styles. Hearing, seeing, speaking, and completing an activity that involves a concept makes it more likely that your child will remember it. Of course, you can always supplement with more activities that cater to your child's learning preference.
When you're choosing a curriculum, consider one written by educators who've had experience communicating with your child's age group. It's one thing to understand a concept and another thing to communicate it well to a particular age group.
Your Values and Goals
Keeping your family's values in mind when choosing a curriculum is a great way to help you narrow down your options.
First, answer these two questions:
"What viewpoint do I want my child to learn from?"
"What information and skills do I want him or her to know?"
Then, as you evaluate the curriculum, look for the values important to each publisher. Do those values match yours? Are they the ones you want to be important in your child's life and education?
Next, consider your goals. Because you're homeschooling, you have the flexibility to reach goals you may not have been able to otherwise. You can:
Be more involved in what your child learns
Introduce more life skills
Give your child the opportunity to work in a family business or at a job
Go on field trips often
Have more time for extracurricular pursuits
Encourage your family's closeness
Know your child is getting an excellent education at a price much lower than a private school
Decide which general and specific goals you want to reach, then keep them in mind while you evaluate the curriculum.
Eclectic Approach
With an eclectic approach, you use a curriculum from several publishers. Some families choose this option because they want to tailor the learning for each subject to each child individually.
Each publisher's curriculum will be organized differently, so you'll have the additional responsibility of taking extra care to make sure your child learns what he or she needs to know in every subject area. To avoid accidentally skipping an important academic skill or concept, and to make sure the teaching order makes sense, examine and compare each curriculum's scope and sequence (learning objectives or outcomes by grade).
Single-Curriculum (Unified) Approach
With the unified approach, you choose just one publisher. This is a more simple and economical way to homeschool—especially if you're new to homeschooling, school multiple children, or have a tight educational budget. It also allows your child to be familiar with the way things are taught in each subject, and you'll both be able to nail down a routine more quickly.
Using one publisher also makes it possible for the content in one subject to reinforce the content in others. This reinforcement helps your child to see parallels between subjects and grasp concepts more fully.
If you have a tight budget that must meet the academic needs of multiple children, the unified approach is by far the more cost-effective because you can reuse materials year after year.
Even if you choose a unified approach, feel free to supplement learning with outside reading, projects, field trips, etc. Those "extras" are part of what makes homeschooling so flexible no matter what curriculum you're using.
To learn more about how to choose the best homeschool style for your family's needs, check out this blog.
Choosing the Right Teaching Materials
To ensure a great homeschooling experience, don't just think about what your child needs. Think about what you need, too!
You shouldn't have to figure everything out on your own or have to wonder if you're doing things right. That's why the best publishers don't offer just textbooks—they provide resources and materials that help you homeschool successfully.
Look for publishers that offer lesson plans, teaching support materials, and instructions for how to use these materials effectively. Since homeschooling is an investment—an investment in your child and in your family—it's worth it to take extra care to make sure you have what you need. Most homeschooling families have found it helpful to have at least the materials below:
Lesson plans from the publisher
Lesson planner (if it doesn't come in the lesson plans)
Test/quiz keys for the subject/grade
Answer keys for student books
Teaching aids to illustrate concepts
As you're deciding, it's helpful to look at the curriculum in person and talk to people who are using the curriculum you're interested in.
Determine Your Child's Grade Placement
This phase will remind you what your child has done, show you what he or she is ready for, and help you decide which materials to purchase. Grade placement is one of the greatest options in homeschooling—those who like the challenge of extra work and those who need more time both find success.
If you're already confident that your child can start homeschooling in the grade level common for his or her age or that follows the last completed grade, skip this step and move on to the next section.
First, get a good understanding of what your child learned the previous year. The easiest way to do this is to look at a scope and sequence, which shows how children should be developing academically—what they should be learning and when. Next, look at the publisher's curriculum for the following grade to determine if your child is ready to enter that level. Many publishers produce a list of grade-level objectives, but you can use the table of contents for each student book if this isn't available.
If you plan to use several publishers for different subjects, pay extra attention to your child's progress and analyze the scope and sequence for each subject and each publisher. This step is crucial because missing foundational concepts can make learning more difficult for your child.
Scope and Sequence Comparison
If a publisher doesn't have a scope and sequence, you can use something similar, such as learning objectives with a table of contents.
First, find the publisher's scope and sequence for the grade just completed, then find the publisher's scope and sequence for the upcoming grade.
Next, review the learning objectives, concepts, and table of contents for the previous grade—one subject at a time—to get familiar with what your child has learned and what he or she can do. Compare this side by side with the scope and sequence for the next grade level. You can use this comparison to assess whether or not your child has the knowledge and skills he or she needs to be ready for the following grade.
How can you tell? The new grade should build on concepts your child has already learned. For instance, if the new grade incorporates composition, your child probably wouldn't be ready for it if he or she hasn't learned yet how to read and write with comprehension. Everything doesn't have to be perfectly matched, but you want the basics. There should be some review of concepts from the previous year, and everything new should be a logical next step in learning.
Plan How Your Homeschooling Will Work
Homeschooling is, at its foundation, a lifestyle choice. Successful homeschooling families incorporate not only schoolwork, but also church activities, sports, music, volunteer opportunities, and family fun into their overall schedule.
In order to enjoy the lifestyle, you will need to determine at the start who will be responsible for what. Whether you decide that one person will handle all the homeschooling or that a combined effort works better, taking time to plan will save you time, set expectations, and keep you and your children from feeling lost about what to do next. These are the main things to think about:
Who will do the teaching? You can break this up by subject.
Who will do the grading?
Who will keep the records? You can use the progress reports that may be included with your curriculum, find homeschool record-keeping templates for free online, or keep your records in a spreadsheet.
How will you organize the day? When you create a routine and consistently follow it, homeschooling gets easier.
As you plan, keep in mind that you'll be able to accomplish more if you homeschool during the times of the day that your children are most attentive and focused. Start by creating a schedule you think will work, then change it as needed throughout the year. If you're not sure where to start, take a look at your curriculum's lesson plans/schedule. Here are some common preferences:
Some families like to get it all done by noon
Some like to do a few subjects, then do a game, then finish up the subjects
Some structure the day like a school day (with lunch and PE times, etc.)
Some have school in the afternoons or evenings
Some spend more time homeschooling each day so they can have a long weekend
Incorporate planning not only for schoolwork, but also for extracurricular activities, volunteer opportunities, and so on. After you've decided how you want your homeschooling day to go, make sure your vision is realistic and then plan around it. If you need a starting point or inspiration, check out our sample schedules.
5. How will you keep on track each day?
Create daily work plans for your child and simplified lesson plans for yourself (see the next section for tips)
Make colorful charts showing when to do each subject and when to take breaks
Decorate a bin for your child that holds folders for each subject
Use dry-erase markers to write the day's work on laminated bookmarks for each subject
You could use a spreadsheet, a big calendar, a dry-erase board, or anything that works for you. However you do it, having a clear plan will help school go smoothly and drastically reduce the number of times you hear the words "what do I do now?"
Make the Best Use of Lesson Plans
The love/hate relationship parents have with lesson plans has a lot to do with how parents view their purpose. To learn more about what Abeka's lesson plans have to offer, read about them here.
Are lesson plans a taskmaster or are they a tool? To make the best use of your publisher's lesson plans, treat them as a tool. Here's how:
Read the professional's view of the lesson, realizing the authors have experience communicating these ideas successfully to many children the same age as your child.
While this input is valuable, it is meant to serve you, not overwhelm you. With that in mind, read everything, but learn to extract only what you need. The extracted part is what you write down in your own lesson plans.
Read through the lesson plans one month (20 lessons) in advance. This way you can note potential field trips or other activities.
Make your own simplified written lesson plans one week (five lessons) in advance to keep them fresh in your mind. Many parents make planning a part of their routine, setting aside the same block of time every week.
In your own lesson plans, use one-word keys like these below to help keep things simple and consistent:
Review: List key review words in phrases such as "check p. 28," "flash cards," or "list of helping verbs."
New: List new material in a word or two. For example, "Teach adjectives."
Do: Today's work, for example: "p. 29 #1-5 together" (working with your child), "# 6-8 watching" (watching your child work).
Glue: This is your child's independent work that "glues" it all together. For example, "p. 29-30."
For even MORE details about how to get started with homeschooling, including how to put together a portfolio, setting yourself and your "classroom" up for success, how to handle homeschooling more than one child, how to build a support network (which you will need), and how to actually GO, you can download a comprehensive PDF here.