At some point during your quest to figure out if homeschool was the right choice for your children, you probably typed the question, "what is the best homeschool curriculum" into Google. But as smart as Google may be, it cannot know the dynamics and nuances of your family. It doesn't know why you're looking into homeschool – if you have a child who struggles in math or spelling, if you're looking to incorporate a Biblical worldview into their education, if your family travels frequently for competitive soccer tournaments, or if one of your kids has an attention issue and could benefit from a more involved, one-on-one style of education. So, while there are lots of options when it comes to curriculum, there are really only a handful of homeschool styles to choose from. And choosing the right one for your family can be tricky.

We've broken down the options into four basic categories to help you navigate what's out there to choose from.

School at Home, a Parent-Led Homeschool Approach
If you decide on a parent-led homeschool approach, you will be taking on the incredible role of "teacher" in your child's life. If you're brand new to homeschool, it can be overwhelming at first, but over time, you will find a comfortable routine. You'll discover how to stay organized by using the tools that work best to fit your needs.

For example, some parents would prefer to have the lesson plans and teacher editions provided to keep them on track. Some like to have teaching aids to keep their kids engaged. Regardless of the additions to the basic textbooks and grading guides, a parent-led approach to homeschool is what most people think of when they hear the word "homeschool." You will be investing time in planning, teaching, and grading, just like a teacher would. Only, you will be able to make your own schedule, avoid a commute, spend quality time with your children, and make your living room or your backyard into your classroom.

Video Lessons and Virtual Homeschool
Video lessons are great for many reasons. Single-subject videos work well if there are subjects you don't feel comfortable leading. For example,  if math is a weak spot for you, you can rely on virtual teachers to do the heavy lifting. But issues with single subjects are not the only reasons parents utilize video. It's also becoming more and more popular to virtual homeschool for the entire year and for every subject.

For families who travel frequently – like missionaries, military families, or even just plain life-travel for baseball games or ballet – video lessons and virtual homeschool are life-savers. Some people call it "roadschooling" because it can be done on DVD players or iPads in the car. In the Abeka curriculum, we offer an "independent study" path, where the timeline for completing coursework is not an issue for families who need extra flexibility.

The simplicity of having all the lessons pre-recorded, rewindable, and simply paused when a break is needed makes this style of homeschool even more flexible than usual. The teachers do all the work, and as the parent, your role is to make sure all the testing, quizzing, and preparation is getting done.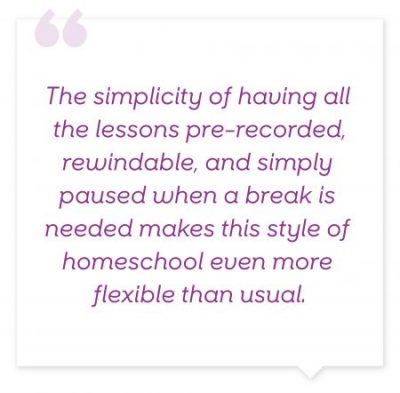 Eclectic "Flexible" Homeschool
Eclectic means you get to hand-pick every piece of your children's academics. By selecting each piece of curriculum carefully, you can customize their education to be exactly what you want it to be.

However, choosing each piece of curriculum is a challenge in itself, and it can prove to be overwhelming in comparison to an all-inclusive option like Abeka Academy or a parent-led kit. Some eclectic families mirror a traditional school year, and others choose to school year-round.  For example, in this recent blog, homeschool mom Elizabeth Kidd walks through how she selects each subject for her four children and how they tackle the year. Her family does school year-round, focusing on science and social studies in the summer, with a heavier focus on language arts and math throughout the school year. And she uses different curriculums for math versus other subjects.

Homeschool Group Co-Ops
As your children grow into teenagers, they will start to take classes like physics and trigonometry. If you're using a parent-led approach, how will you handle teaching those tough subjects? A homeschool co-op could be the solution. A co-op is when a group of homeschool students get together for the same purpose, such as learning a single subject or even just to hang out socially. A parent who specializes in the topic may lead the lessons or alternate from week to week with other parents who understand the subject matter.

Homeschool co-ops can be utilized in a variety of ways. Some act as mini schools all year long, others meet infrequently and offer enrichment classes or field trips, and sometimes, co-ops are simply used to exchange discounted homeschool materials.

Ask around in your local homeschool community groups and do some online research to find out if there is a co-op that your child could become a part of. 

Choosing a homeschool curriculum and style is a decision that affects your entire family. Start by thinking through your goals carefully. Write them out in list form, and consider why you've chosen to homeschool in the first place. Which of these methods sounds feasible for your family's dynamic and lifestyle?  The Lord is faithful, and He will give you wisdom to make the right choice. And remember, no matter which path you choose, you can always switch it up and try a different homeschool option to find the best homeschool style to suit your family's needs.