What's New And Revised In 2nd Grade?
Because of your great feedback on the new Grade 1 products, we followed through with the same complete revision of Grade 2. This means that the higher-level thinking skills your first grader developed will be further honed this year.
No subject is untouched—Language Arts, Arithmetic, History, Science/Health, Art, and Bible. We kept what was great and added enhancements to make it even better.
Here's just a glimpse of what's new. When you look at the curriculum in person, you'll see even more!
New Concepts & Applications
Phonics/Language
Coordinated with thorough instruction in phonics, the foundational grammar concepts of nouns, verbs, adjectives, adverbs, word usage, and sentence analysis are now introduced in an age-appropriate way in second grade. Plus, there's new application of concepts, including dictated phonics application.
Reading
You'll see new story content in readers still arranged by phonetic progression and with an introduction to literary terms (like plot or setting). New enrichment activities include Venn diagrams, character webs, creative writing, and drawing. Higher-level thinking questions are included with answers that incorporate Scripture where naturally applicable to help develop a biblical worldview.
Arithmetic
Coordinated with a foundation of essential facts, arithmetic introduces estimation, rounding, metric measures, fractions, and exercises on determining change. Second grade takes the basics from first grade and continues to build on them, applying knowledge on a higher level.
Spelling
Spelling offers a new arrangement of word lists, new application activities, and a phonetic progression of difficulty in the spelling lists.
New Themes
Learning is an exciting journey! In language and arithmetic, your child will explore four fun and educational themes:
pond (learning about all its fascinating creatures),

travel around the world (with facts unique to countries),

jungle (spotlighting seven jungles throughout the world), and

camping (with a national park emphasis).
The themes introduce fun facts, inspire curiosity, create connections between subjects, and instill love for God's creation.
New Materials, Teaching Helps, & Pacing
Materials
You'll see a new book— Reading Comprehension 2— for building comprehension and test-taking skills.
My New Name is a brand-new novel. It's the story of Leo, a boy living in a children's home who learns about God's love and the gift of salvation.
Phonics and language are now in one book (having classwork on one side and independent work on the other).
In the new History, Science, and Health 2 Activity Book, you'll have application opportunities to coordinate with daily lessons.
Teaching Helps
We've taken helpful teacher materials and added tips for meeting your child's individual needs.
In each one, you'll see additional higher-level thinking questions, learning activities, and teaching tips.

In arithmetic and phonics/language, you'll also see steps that walk you through teaching and ways to encourage and challenge children at different learning levels.

In science, health, and history, you'll also see additional facts and comprehension questions, vocabulary with age-appropriate explanations, hands-on activities, and creative writing opportunities.
Charts, games, and other teaching aids are all new and revised to complete the exciting second grade upgrade.
Pacing
Flexible pacing options in reading allow you to adjust reading lessons to meet your child's needs.
In writing, there's new pacing for appropriate cursive formation mastery with an emphasis on creative writing using the writing process.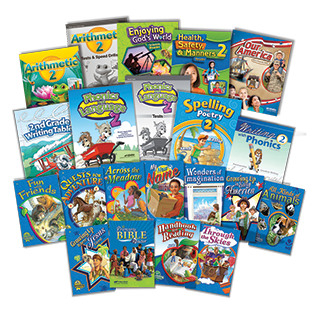 Abeka offers lots of ways to help your child learn.
SHOP NOW
New & Revised— Grade 2 Products
Phonics/Language
Handbook for Reading
Handbook for Reading Teacher Edition
Phonics and Language 2
Phonics and Language 2 Teacher Key
Phonics and Language 2 Test Book
Phonics and Language 2 Test Key
Teaching Aids
Basic Phonics Charts
Basic Phonics Flashcards
Basic Phonics Sounds CD
Miniature Alphabet Flashcards
Blend Practice Cards A
Blend Practice Cards B
Clue Word Cards
Writing
Writing with Phonics 2
2nd Grade Writing Tablet
 Teaching Aids
Cursive Formation Flashcards
Homeschool Seatwork Charts
Spelling
Spelling and Poetry 2
Spelling and Poetry 2 Teacher Edition
Reading
Fun with Friends
Quests for Adventure
Across the Meadow
Wonders of Imagination
Through the Skies
Growing Up in Early America
Growing Up around the World
Growing Up Where Jesus Lived
All Kinds of Animals
My New Name
Reading Comprehension 2 Skill Sheets
Reading Comprehension 2 Skill Sheets Parent Edition
Primary Bible Reader
Reading 2 Answer Key with Literary Development and Enrichment Activities
Arithmetic
Arithmetic 2
Arithmetic 2 Teacher Key
Arithmetic 2 Tests and Speed Drills
Arithmetic 2 Tests and Speed Drills Key
 Teaching Aids
Arithmetic 1–2 Concept Cards
Homeschool Arithmetic 2 Charts and Games
Homeschool Arithmetic 1–2 Tables and Facts Charts
Homeschool Numbers Flashcards
History/Science/Health
Our America
Enjoying God's World
Health, Safety, and Manners 2
History, Science, and Health 2 Answer Key
History, Science, and Health 2 Activity Book
History, Science, and Health 2 Activity Book Teacher Key
 Teaching Aids
Homeschool History, Science, and Health 2 Teaching Charts
Art
Art Projects 2
Music
Songs We Enjoy 2
Songs We Enjoy 2 CD
Bible
Moses in Egypt Flash-a-Card Bible Stories
Journey to Sinai Flash-a-Card Bible Stories
Journey through the Wilderness Flash-a-Card Bible Stories
Joshua Flash-a-Card Bible Stories
Judges Flash-a-Card Bible Stories
Ruth Flash-a-Card Bible Stories
Jonah Flash-a-Card Bible Stories
Favorite Bible Stories 1
Favorite Bible Stories 2
Curriculum Lesson Plans
Homeschool Language Arts 2
Homeschool Arithmetic 2
Homeschool History, Science, Health 2
Homeschool Grade 2 Bible
Feedback Welcome!
Your input is a valuable part of our development process. Please let us know what you think! E-mail editor@abeka.com with what you like—or what you'd like to see.
NOTE: The above is reprinted from our 2018-2019 Homeschool Catalog. To get a closer look at these products, visit our website.