Hello Abeka family! My name is Teresa Gonzalez, and I am so excited to share a little bit about our homeschooling journey with Abeka. I am a mom of four and have been homeschooling for the past four years. My oldest daughter, Grace is in third grade, my son, Haddon is in first grade, my daughter, Emory is in kindergarten, and baby Harrison is still running around in diapers.  
I never thought I would be a homeschooling mom. I grew up in public school and homeschooling was never an option for me and my three brothers. My parents immigrated to the United States from Venezuela, and they had to work around the clock to make ends meet for my family.  
When my husband and I found out we were pregnant with our first child, we both knew that we wanted to go the homeschool route. After many conversations with friends in the homeschooling community and completing our own research, we decided to use Abeka as our curriculum. Now, four years later, we both agree that homeschooling with Abeka has been one of the best decisions we've ever made! I want to share with you a few reasons why Abeka works so well for our family.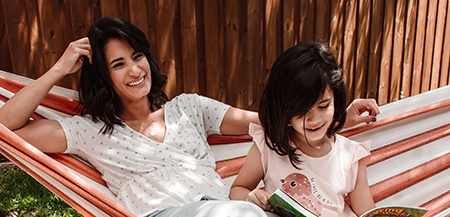 Flexibility 
My husband works in retail and his hours are not traditional.  This means that we don't usually have official "weekends." Some weeks he's off on a Friday, and some weeks, on a Wednesday, which means that carving out consistent family rest days is very difficult for us. We also like to take family vacations during the "off-season" so we can benefit from more affordable accommodations (ahem… flying six people around gets expensive). 
Because of Abeka's flexible lessons, we can adjust our curriculum based on our family plans. We also have the freedom to bring school with us wherever we are.  Sometimes school happens at the park, sometimes by the pool. I've been known to always have flashcards in my bag.
There's also the flexibility that comes with a tailored education. We often tailor our electives based on what the kids are interested in. Grace loves science, Haddon loves learning about tornadoes and building race cars, and we're able to incorporate their interest as part of our curriculum. Sometimes that means adding a few race car pictures to our math worksheet or practicing our sentence structures during the observation portion of our science experiments. Our hope is that as we progress and learn our kids' interests, we can tailor their education even more.
Abeka's approach allows our family to develop our own rhythm and follow a schedule that fits our lifestyle. Abeka also provides suggested timelines. These include steps that are laid out for each day and ideas for further discussion, so our family can dive deeper into topics that are being discussed in the lessons. We are in the driver's seat of our children's education with the flexibility to incorporate learning throughout our day.
Abeka also provides different homeschooling options that can be personalized.  We enroll in the full grade, pre-recorded online video streaming because they provide 170 lessons complete with lesson planning, quality teaching, and books. Having all of these resources at our fingertips gives me peace of mind because I know that my children are receiving a well-rounded education.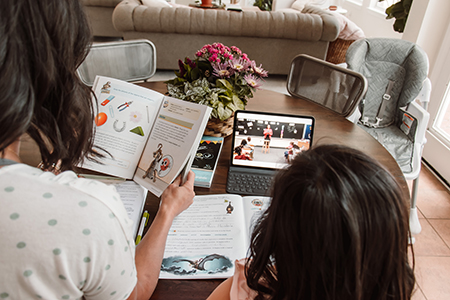 Credibility
Abeka started publishing their Christian education curriculum back to 1972, and its curriculum is known and trusted. Our church has used Abeka's teaching materials for over 20 years, and I have met graduates of the Abeka Academy who have gone off to become professionals and experts in their fields. 
Abeka Academy's accreditation is one of the main reasons we decided to enroll our children. They are accredited by the Florida Association of Christian College Schools (FACCS) and the Middle States Association Commissions on Elementary and Secondary Schools (MSA-CESS). These accreditations give me confidence and reassurance that my children are learning from the best teachers and are being set up for success when they reach their college years. Abeka Academy provides books, teaching lessons, quizzes, tests, and video manuals, as well as official report cards, transcripts, diplomas, and free standardized testing at no extra charge.
Biblical Foundation 
Train up a child in the way he should go: and when he is old, he will not depart from it. Proverbs 22:6
I have a deep conviction to keep my kids from a system of education that denies that there's a God.  The world denies God and it's evident in the times that we are currently living.  Everyone is pushing their agenda and even the best schools have a secular worldview.  My desire is to teach our children classical education through a Christian worldview. I want them to know the truth and to root every part of their education on the truth of the Word of God.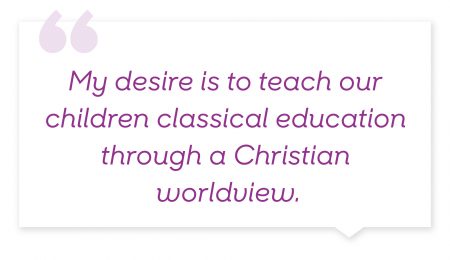 Abeka believes that the Bible is the foundation of all learning and a Biblical worldview is interwoven in all of their subjects.  When my kids are reading about science, they are connecting God's creation and order to what they see in the world around them.  They are able to understand that it's our responsibility to search out and make use of the laws that God has set for us in this universe. 
There are amazing schools close to my home but at the end of the day, you never really know who is teaching your children and what they're being taught. My children have been taught to memorize scripture, apply Biblical doctrine to their own lives, and in the process, have grown in their faith with the help of this program.
Value
One of the factors when considering a homeschooling option is always cost.  Abeka has proven to be a great value that meets all of our expectations at a price point that is widely attainable. They provide a flexible payment option, which is particularly helpful when enrolling multiple children.  
One of the benefits for our family is that we are able to reuse most of the textbooks.  Abeka provides the option of purchasing video- subject combos, single-subject video courses, as well as the option to purchase tuition and books or tuition only.  
They also provide a 5 percent military discount on all Abeka orders for active duty, veterans, and retired military personnel, along with other ways to save.
We are living in extraordinary times, and I know many of you are on a journey to find real solutions for your children's education. I hope that this quick read brought some clarity to your search. If you're interested in testing out what Abeka's video lessons are like, they are currently offering one full week of Abeka Academy Video lessons for Free! This is a great opportunity to try Abeka's curriculum firsthand and experience the benefits of a tailored quality education.